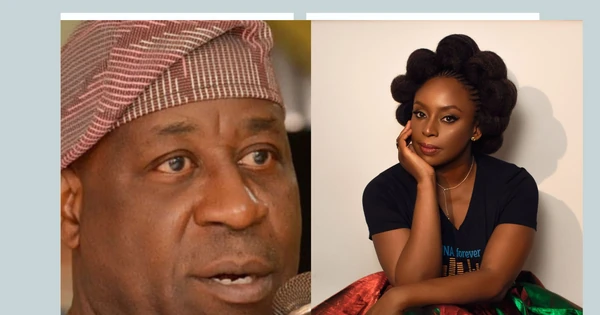 Alake said Chimamanda's piece is a sad reminder that the possession of brilliance and high intellect provides no immunity against prejudice, bias, and bigotry.
You deserve great deal of pity and sympathy – Dele Alake replies Chimamanda
This comes following Adichie's open letter published by the American publication, The Atlantic, on Thursday, April 6, 2023, in which she accused the Independent National Electoral Commission (INEC) of betraying the trust of Nigerians by reneging on its pre-election promise to upload results in real-time…… CONTINUE READING
She also called attention to the recorded incidents of violence, intimidation of voters, ethnic profiling, mutilation and manipulation of results sheets that characterised the just concluded general elections.
"The election had been not only rigged but done in such a shoddy, shabby manner that it insulted the intelligence of Nigerians," she wrote in the letter titled "Nigeria's Hollow Democracy".
The Novelist, therefore, warned President Biden against congratulating the declared winner and President-elect, Asiwaju Bola Tinubu, as doing so would provide legitimacy to the election and tarnish the image of the U.S. which claims to be committed to democracy.
Although Biden is yet to personally send a congratulatory message to the former Lagos State governor, the U.S. Department of State congratulated him hours after INEC's announcement on March 1 and described the election as "a new period for Nigerian politics and democracy".
But, the critically-acclaimed writer of Half of a Yellow Sun condemned the congratulatory message while also taking a swipe at the United Kingdom Prime Minister, Rishi Sunak, for congratulating Tinubu.
Alake replies with a missive
Reacting, Alake stated in a letter on Friday, April 7, 2023, that Adichie "deserves a great deal of pity and sympathy for her so utterly biased piece."
The APC Chieftain also said, "Chimamanda's piece is a sad reminder that the possession of brilliance and high intellect by an individual provides no immunity against prejudice, bias and bigotry albeit disguised in the deceptive garb of elevated and high-minded discourse."
Alake made reference to the Novelist's admission that her allegations of rigging were reported accounts of "cousins" and "relatives" in Lagos, adding that reports of "violence and malpractices" were exaggerated.
The letter read in part: "Chimamanda at least makes one honest admission in a write up made up largely of rumours, hearsay, presumptuous conjectures and outright falsehood. She supported Mr Peter Obi, candidate of the Labour Party (LP) in Nigeria's February 25, 2023, presidential election and hoped he would win "as many polls had predicted".
Peter Obi did not win. He came third in a closely fought election in which Bola Tinubu of the All Progressives Congress (APC) came first and Atiku Abubakar of the main opposition, the Peoples Democratic Party (PDP) came second.
"Chimamanda had pinned her hopes on a possible Obi victory partly on predictions of flawed opinion polls some of which were predicated on statistically negligible and thus unreliable sample sizes and others on no discernible empirical basis whatsoever. Opinion polls do not win elections.
"The INEC has admitted that its system suffered unanticipated glitches on that day which made it impossible for it to upload the polling units results of the presidential elections on its portal immediately as promised but it began to do so once the technical hitches had been resolved.
"Chimamanda gives her readers the impression that the deployment of technology implies that some machine would magically conjure puritanical results online, portraying and guaranteeing the transparency and credibility of the exercise.
"No, it is the results as recorded physically on INEC forms provided for the purpose from the polling units, signed by polling agents of political parties, electoral officials and security agents that are uploaded and there is ample opportunity for parties contesting the outcome of the elections to prove if there are discrepancies between the figures on those physical result sheets and the electronic results uploaded on the INEC portal."….. CONTINUE READING