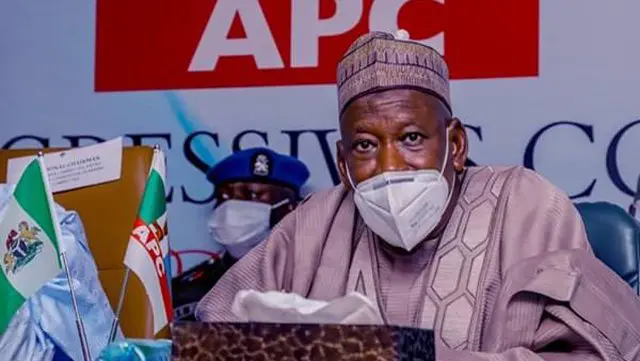 A former national publicity secretary of the All Progressives Congress (APC), Yekini Nabena has submitted that the party is always prone to leadership crises because of the decision made by some of its leaders. CONTINUE READING>>>>>
Speaking against the backdrop of the emergence of former Kano State Governor, Abdullahi Ganduje as the APC National Chairman, Nabena held that the foundation that resulted in his emergence is faulty.
He stated that it is against the party's constitution for him and other national officers to have been selected instead of elected so Ganduje should stop parading himself as an elected APC national chairman because the best he can be given the current situation is an acting chairman.
The former party spokesperson also questioned the emergence of a person that has huge corruption cases hanging around his neck as the party's national chairman.
To this end, he submitted that Ganduje may be kicked out of office just like his predecessors and the party may soon implode.
Nabena made the submission while responding to a question on the situation of the APC during an interview with Sunday Sun.
He said: "I have said it previously that the foundation APC built in the last elective convention was fundamentally very faulty. The whole national officers were appointed not elected. There was no election, but selection and PDP members that are in their houses, unprepared and not ready for the positions were appointed.
The problem started with the removal of Adams Oshiomhole by some governors through his ward and even went to procure court judgment against him, and ever since then, nothing has actually worked. Yes, we are really concerned about the leadership crisis. Oshiomhole came and left, Mai Mala Buni, there was even a period the former governor of Niger State took charge. Some strong forces brought in Abdullahi Adamu from nowhere and were disappointed when they did not get the ticket. They went for Ganduje, a man facing a crisis in Kano, but what is he going to tell the opposition? He is somebody we know his antecedent in Kano. With Ganduje on the saddle as APC chairman, can the party boldly claim to be sincere in fighting corruption?
"APC has become a party for all manners of people facing one corruption charge or the other. According to Oshiomhole, it has become a rehabilitation home for fraudulent, corrupt politicians facing corruption charges."…… Continue Your Reading