Big Brother Naija 'Pepper Dem' former housemate, Tacha Akide has dragged her colleague, Seyi Awolowo for shading her.
In a series of posts on her Twitter page, the reality star slammed him as she noted how BBN gave him another opportunity to be something in life. CONTINUE READING>>>>>
According to her, despite the second chance, nothing has changed in his life as his late grandfather's name is the only thing keeping him afloat.
She noted how Seyi was given a second chance to redeem his image on the show, yet he derailed his career and believes she envies him.
"And nothing has changed!!! Even with your Awolowo name and a rerun of the show you no still reach it!!! Dragging you not on a podcast but on my own show!! Snaiyeee You can't relate!!!
I was on my own lool. He did me an evil spirit unprovoked!! Like they have you another chance to be something in life!! But instead, you went in there to further derail yourself!! And I'm supposed to envy you?? Shey you dey whyne me mi".
"Running around the excuse of "OLD SCHOOL"!!! You're a sorry excuse of a man! Grooming sons to run trains in people's daughters and you think you're mentally OKAY? You're running mad na to naked remain!! And I go treat your f*CK up on @bigfridayshow Tomorrow!! E go sure for you".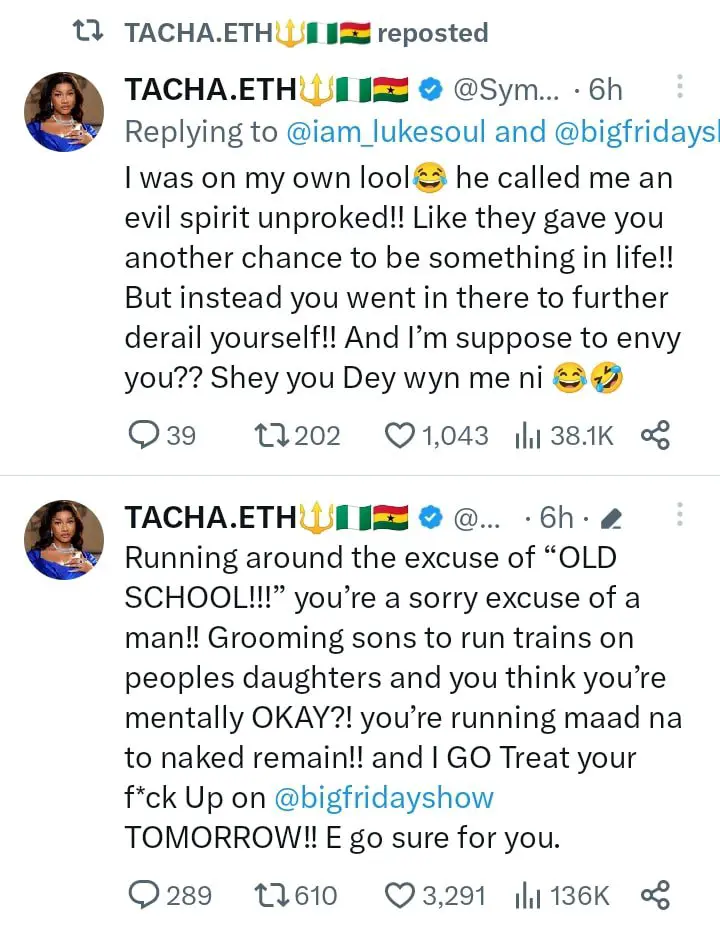 Seyi throws shade at Tacha
Kemi Filani reported that Seyi, who just recently got evicted from the BBN house, had stirred the pot with some direct shade at Tacha.
Before Seyi's eviction from the BBN house, Tacha was notably one of the vocal individuals who advocated for his departure. Her social media posts and comments during his time on the show proved that she wanted him gone from the house.
Upon Seyi's eviction on Sunday night, Tacha took to her Twitter account, posting a video praising God.
In response to this, Seyi, in an interview, showed a sarcastic level of sportsmanship. He acknowledged Tacha's role in promoting the show.
Seyi stated, "Shout out to Tacha for promoting the show. Even if you thought they called you."
BBNaija's can't pay me" Tacha Akide spills on rejecting Season 8 offer
Recall that Tacha Akide, while responding to one of her co-reality stars, who expressed dismay at her absence on the ongoing show, claimed the show organizers couldn't afford to pay her.
Media personality, Toke Makinwa had questioned BBNaija's lovers on which past housemates they were hoping to see.
Mike Edwards had mentioned Tacha's name and while responding to him, Tacha stated that the organizers of the show couldn't pay her as her price went up.
The reality star further went on media rounds speaking on her absence, as she reiterated that she can't go into the show, without being paid by the organizers.
In her words, she can't water down her brand to give Nigerians a show.