On September 6th, before the PEPC, Kenneth Okonkwo tweeted. He claimed that everyone looks up to the judiciary for its actions. CONTINUE READING>>>>>
Kenneth Okonkwo also said that Nigerians allegedly did not celebrate Bola Tinubu's election as president of the country. As a result, everyone is looking to the judiciary for justice right now. Kenneth Okonkwo added that whether Nigeria would continue to mourn or celebrate will depend on the court's decision on September 6.
In his word, he captioned his tweet saying;
"When INEC declared it's candidate, the winner, or whether joy will come to Nigerians after all. All eyes on the judiciary for justice, not judgment. In God we trust".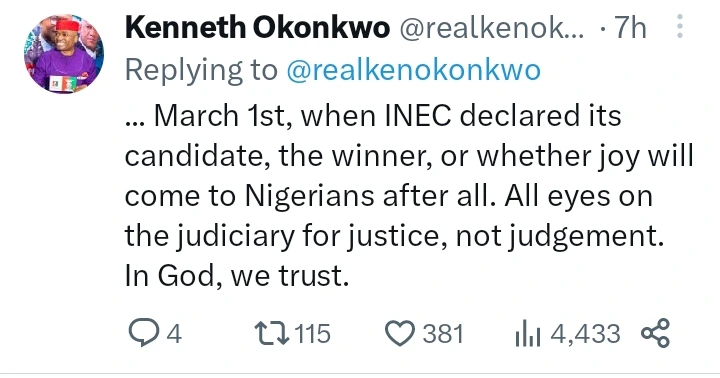 He went further to say that the anticipated judgement of the PEPC on the 6th of September, 2023, will have ramifications and consequences on democracy and social justice in Nigeria, and the entire world. Kindly share your thoughts via the comment section. CONTINUE READING>>>>>