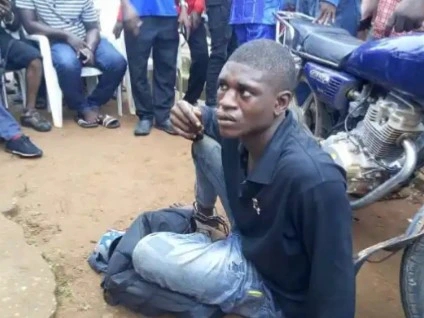 Kenneth, a 29-year-old boy, was Caught with two human heads inside a bag; the two human skulls are reported to be those of his mother and father, whom he allegedly killed for money ritual .Continue Reading>>>
The events in Kwara State were witnessed by a large number of citizens who came out to see how the child was caught and mercilessly assaulted by an irate mob who arrested him before handing him over to the police for proper investigation and prosecution.
The young man , whose parents had been reported missing for about a month, was apprehended with human heads on his way to a herbalist, and during interrogation, he admitted to ganging up with his friends. They later introduced him into ritual making to kidnap his father and mother (parents), killed them inside the forest and cut of their heads to be used for ritual purposes.Continue Reading>>>
The guy who was savagely beaten by an angry mob after confessing stated the only way he could transport his parents' heads to the herbalist was to conceal them inside a school bag to avoid being discovered.
He ran out of luck on his way to the herbalist's house, unaware that he was being followed by one of his family members, who promptly drew the attention of a vigilante member to check the contents of the bag. Two human heads were discovered when he was being checked.The youngster was promptly handed over to the police.
The State Police Public Relations Officer who confirmed the tragic incident stated he was horrified when he heard the news and how ruthless a child can be towards his parents who brought him to the world. He will be charged to court as soon as investigations are concluded by the police in the state.