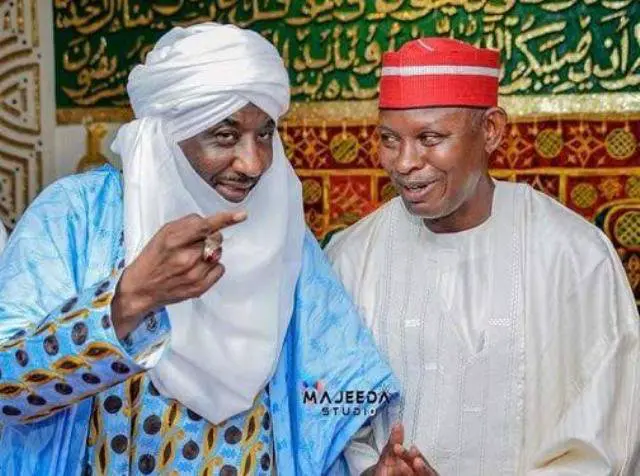 The governor-elect of Kano State, Mr. Abba Yusuf of the All Nigeria Peoples Party (ANPP), has invited the dethroned Emir of Kano, Muhammad Sanusi II to his swearing in on Monday, May 29, 2023. CONTINUE READING>>>>>
An invitation personally signed by the governor-elect and dated May 26, 2023, said the event will hold at the Sani Abacha Stadium, Kofa Mata, at 9.00am.
"As you are aware, the 2023 election into the office of the governor was conducted in Kano State on March 18, 2023, to which, by the Grace of Almighty Allah SWT, I emerged as the winner and subsequently issued a certificate of return by INEC. It is therefore my great pleasure to invite you to my swearing in ceremony along with my deputy, Comrade Aminu Abdulsalam Gwarzo. CONTINUE READING>>>>>
"It is my belief that your presence will not only significantly add colour to this important event, but also serve as a major boost and support to us, as we embark on a journey that aims at restoring the lost glory and reputation of our dear state by returning it to the path of progress and development in all fields of human endeveaour, In sha Allah.
''While anticipating your positive response and acceptance to grace the important event.
Accept the assurance of my highest regards and consideration, please," Yusuf wrote.
Recall that Sanusi, 14th Fulani Emir of Kano was disrobed by the outgoing governor, Mr. Abdullahi Ganduje of the All Progressives Congress (APC) on March 9, 2020 for alleged insubordination. CONTINUE READING>>>>>
Aminu Bayero, son of the late Ado Bayero and Emir of Bichi, was installed as Sanusi's replacement
Recently, the presidential candidate of the ANPP and former governor of the state, Mr. Ibrahim Kwankwaso, said the new government would revisit the dethronement of Muhammadu Sanusi.
In a viral video posted on the social media, Kwankwaso said he is confident Yusuf would have the wisdom to resolve "challenges" in the state.
"We campaigned and we are well-known in Nigeria, especially in Kano. What we showed the people is by God's grace all the good projects we started when we were in government. This governor (Abba Kabir Yusuf) and his team will pick up from where we left off,"
"We tried not to talk about whether the Emir would be removed or not, but now you see, the opportunity is there.
"Those who God made leaders will now decide on the next step and decision to take. They will review it and determine what is the right thing to be done.
"Apart from the issue of changing the emir, the emirates have now been divided into five. All of that will be reviewed too. When a leader comes into power whether in a country, state or local government area, he inherits things that are good and things that are difficult and challenging.
"We are confident God will give the governor (Abba Kabir Yusuf) the wisdom to come and resolve the challenges planted in Kano state so that everyone will leave peacefully in Kano state," he said.